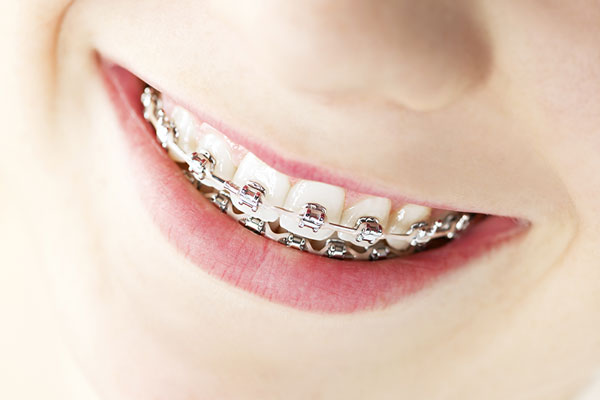 The original orthodontic treatment
Silver braces are still a highly effective way to improve your smile. Not only are modern braces sleeker than ever, they're also more comfortable. Plus, you'll love the results!
The Benefits of Getting Braces
Anyone who wants to improve the appearance of their smile and fix problems like crookedness, crowding, or excessive spacing will benefit from completing treatment with braces. But it's not all for looks – straightening your teeth reduces the risk of tooth decay while often fixing problems related to jaw pain.
Braces are made up of three essential pieces that allow them to straighten teeth. The brackets are the small metal bases attached to each tooth that keep the whole set in place. The archwire connects the brackets together and helps direct the movement of your teeth. The ligatures are small elastic bands that attach the archwire to each bracket and create the pressure needed to reposition your teeth. Together, all of these pieces result in straighter teeth at the end of treatment.
Since every patient has different needs, each treatment length will vary. Patients can need braces anywhere from six months to 30 months or longer. By coming to your appointments, following Dr. Bruno's instructions, and taking good care of your braces, you can avoid any delays and get to the end of your treatment with the best result as soon as possible.
Cost of Braces in Chevy Chase, MD
In the same way that the duration of treatment will vary from patient to patient, the cost of braces is also dependent on what each patient needs. We offer convenient financing options, and many dental insurance plans include orthodontic coverage, which can make your braces even more affordable.